Vitamin D2
(Synonyms:Ergocalciferolum; Irradiated ergosterol; Ercalciol; 'Ergosterol irradiated'; Calciferol; Viosterol)
CAS Rn:50-14-6
Molecular Formula:C28H44O
Molecular Weight:396.65
Molecular Graph: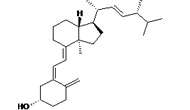 Specifications
Appearance:Colorless needle crystals or white crystalline powder
Assay (HPLC) :≥98%
Melting Point :114~118°C
[α]20/D, c = 4% in EtOH +105 ± 2°
Usage:Vitamin medicine. Mainly promote the absorption and calcium inside the bone of the calcium inside the bowel deposite, used for preventing and cure the rickets disease and bone substance to soften a disease.
Package:Inner package: Net 0.1 kgs, Sealed in aluminium-foil bag in vacuum;
Outer package: 0.5 kgs/net in aluminium tin.
Transportation Caution:
6.1 Class Toxic; Packing group:Ⅱ; UN:2811