2,5-Pyridinedicarboxylicacid
CAS Rn:100-26-5
Molecular Formula:C7H5NO4
Molecular Weight:167.1189
Molecular Graph: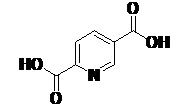 Specifications
Appearance:Slightly brown leafy or prismatic crystals.
Melting Point(ºC):254
Solubility:Slightly soluble in boiling water and boiling ethanol, insoluble in cold water, ethanol, ether and benzene.
Usage:
Can be used as organic synthesis and pharmaceutical intermediates in emulsifier, dispersant, wetting agent, moisture proof agent, and manufacturing niacin, pesticide, dye and so on.
Package:25kg Cardboard Drum